Prospective Primary 1 Parents
Prospective Primary 1 Parents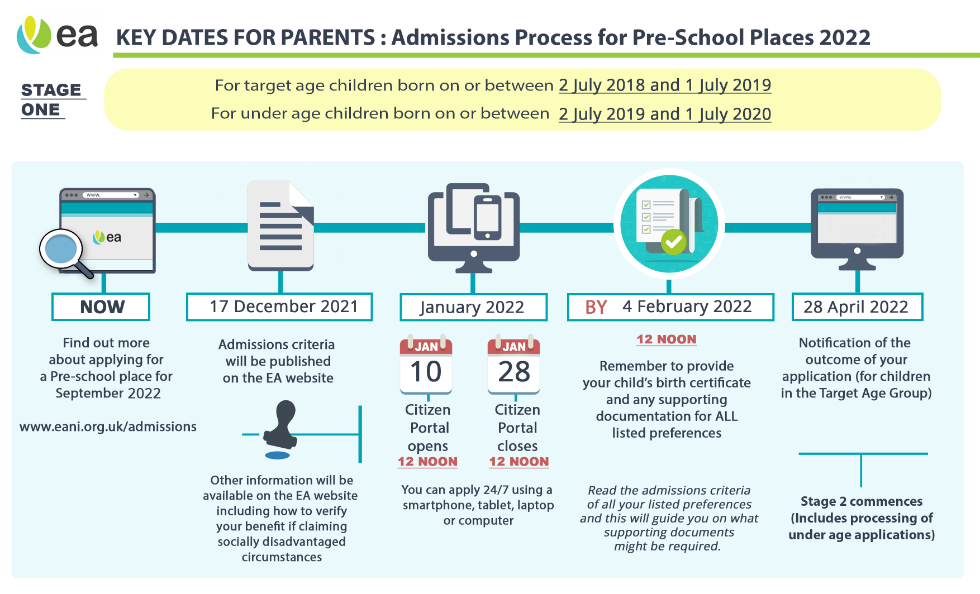 This page is designed to keep parents up to date with recent changes in Open Enrolment for entry to Primary 1 in September 2022.
Please take time to read this section: www.eani.org/parents/admissions
Additonal videos have been added to the Education Authority's website:
Videos & Presentations | Education Authority Northern Ireland (eani.org.uk)
Please click on the link below for our entrance criteria:
Key Dates:
Criteria for school and nursery will appear online on - Friday 17th December 2021
Online Portal opens on - Monday 10th January 2022 at 12.00pm
Online Portal closes on - Friday 28th January 2022 (12.00 noon) - an application will be treated as punctual if received on or before this date
Supporting documentation (birth certificate) to 1st choice school - Friday 4th February 2022
Citizen Portal opens on - Thursday 28th April 2022. Parents will be able to view the outcome of their P1 application (notification letter also issued to parents).
Registration of Interest in admissions to Cumber Claudy Primary School
Cumber Claudy Primary School, 20 Cregg Road, Claudy Londonderry BT47 4HX | Phone: 028 71 337080